Dear Friends of Soulkitchen,

We've got sunny skies today and a nice chill in the air. We see the sprinkle of new snow on the local mountains. We love this city - rain, shine or snow!
And the work here continues. Times are tough for people in the city as housing is so scarce and expensive. The onset of the cold weather doesn't make life easy. This year we have increased our focus to include another community in the West End where 450 mostly seniors are housed. Our partners, More Than A Roof, took over the management of that property. The opportunities to serve there are many and somewhat difficult as the kitchen facilities are limited. MTR is building a commercial kitchen on that site which will be completed by 2018. Meanwhile we continue to provide meals for our tenant population (which has doubled this year), taking hot meals onto the streets twice weekly, working with local churches to provide support for their outreach projects and taking meals into the homes of those who are sick or needy. We have just concluded Canadian Thanksgiving celebration dinners with over 400 Turkey dinners going out. All this production takes a team. What is REALLY good is the work with our tenants on a personal level. Soulkitchen is in a position to provide training, support and hope for many people. We give others the opportunity to redirect their focus - away from negativity and out of isolation. Our aim has always been to create a healthy community while providing wholesome meals to others. The kitchen is where it starts - cooking, training, connecting with others, mentoring.

More than Food.

We couldn't do the work without our many volunteers. We have a strong team of 15 volunteers together with a newly appointed Sous Chef. Special thanks to IGA on Robson, Earls Restaurants, Terra Breads and others who partner with us and provide provisions that enables us to serve good food. More Than A Roof are a great organisation and we are blessed to be partnering with them.
We use all three modules to get people into a more healthy state. Our tenants work with us, we engage with them on many levels and we give them a purpose. Through all this we trust that our tenants and volunteers will find their way to experiencing the love and mercy of our Father in heaven who is ultimately the bringer of freedom.

Pray for us that we can make a big impact by bringing real purpose into the lives of those who are discouraged and poor through love and encouragement.

We are travelling to Perth and onwards to Malaysia this month. We will continue connecting with the churches in Penang and especially with our partners at Noah's Ark. Hannes will be speaking at Fount of LIfe Outreach Ministries in Perth and Louise will speak at C3 Dunsborough mid November. Pray for our ministry both locally in Vancouver, and, as we travel.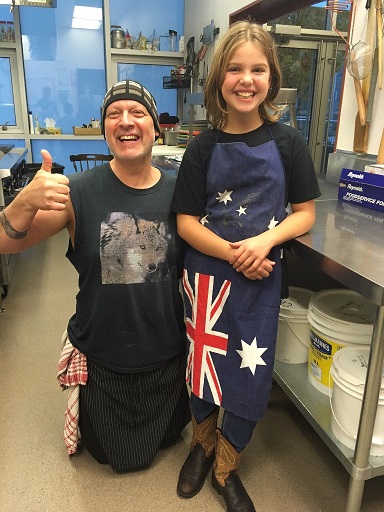 Winner of our Aussie Apron Award - our youngest volunteer

Blessing to you all.


Hannes and Louise Tischhauser